A Florida patio is the perfect place to add a fire feature, allowing you to make the most of the warm evenings. When it comes to adding any type of fire feature to your patio, you'll want to make sure you put safety first and also keep in mind some of the top ways to make the most of this new purchase. Keep reading as Patio Casual shares 7 of our top pieces of advice for enjoying your fire feature on your Florida patio or pool deck.
Put Fire Safety First
Safety is the number one consideration when it comes to adding any type of fire feature to your patio, pool deck, or garden. You'll need to choose a safe location with sufficient overhead clearance for the fire feature to operate without any risks. Make sure you don't have too much clutter on your patio, as this clutter could also be a safety risk. Before installing the fire feature, take the time to clean and clear out the patio of any furniture or items you no longer need. Keep a good amount of clearance space around the fire feature as well, so that no one has to go too close when walking by.
Create a Space to Hang Out Around the Fire
After choosing a safe location for your fire feature, you'll want to create a warm and welcoming space for your family and friends to hang out around the fire. There are so many different options on the market today for patio furniture and fire pits. It's all about finding a solution that fits your patio and will be practical for your needs. When it comes to the chairs you'll place on your patio, we like deck chairs or outdoor love seats and sofas. Think about how many guests you are likely to have at one time visiting and then purchase just enough chairs to accommodate them. You'll also want to find a table or two to add to your patio. Polywood is a great material to consider, and you could choose from a square or round fire table. We also like this table or this round fire table, both of which will fit well on most patios.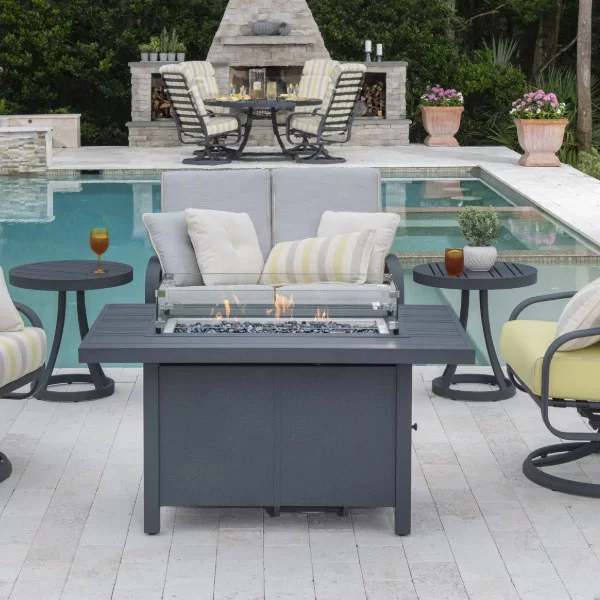 Incorporate Food and Drinks into the Outdoor Space
An evening out on the patio should always incorporate some food and drinks to keep your loved ones entertained. Finding a side table for your snack and drink selection is essential, so that you can have them nearby instead of running in and out of the house when entertaining guests. This ice bin side table is particularly handy to help serve drinks and will ensure that everyone has a drink in their hand at all times when outside. Try to think carefully about the furniture you are going to add to your patio so that you don't end up with pieces that are either too large or too small for the space you have.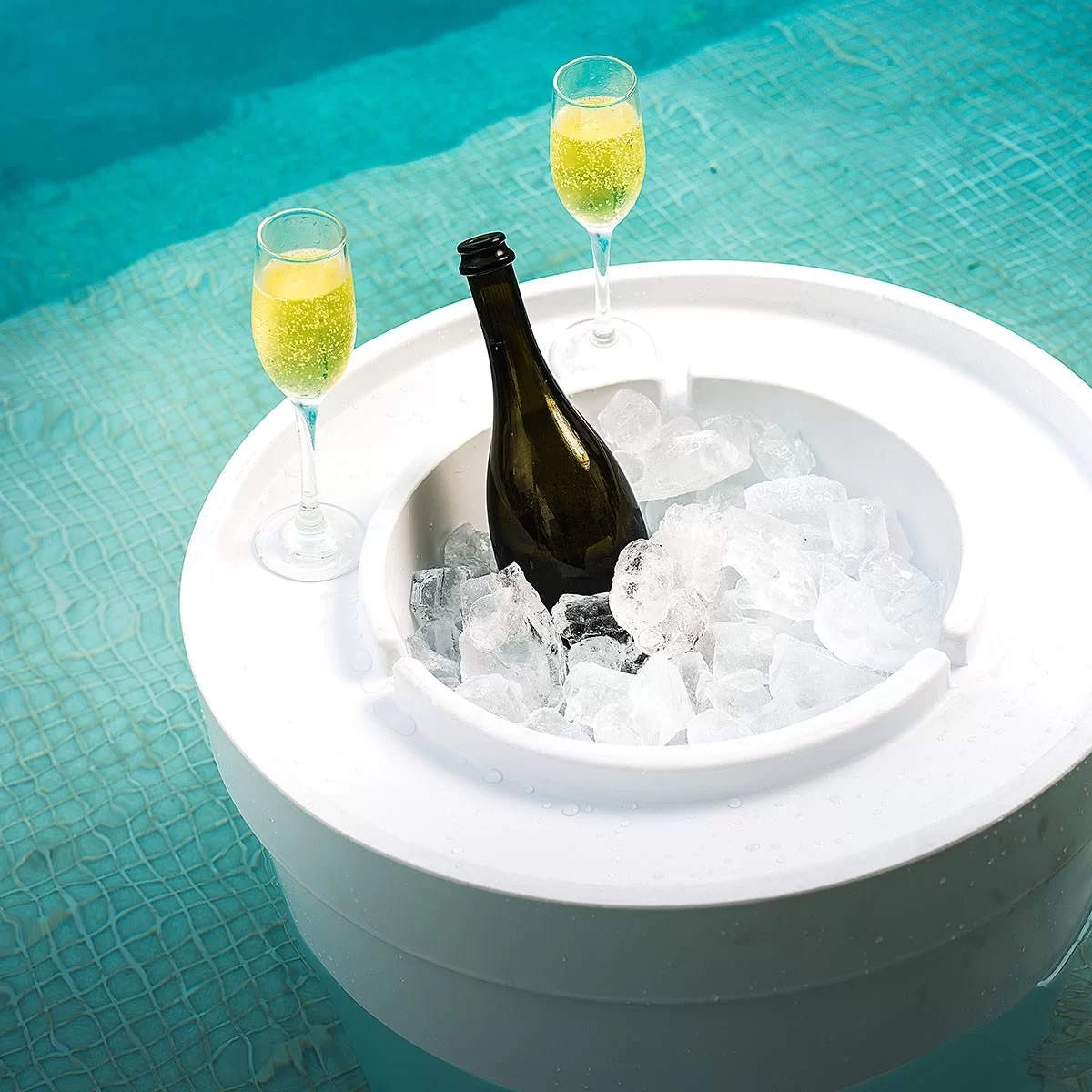 Add Background Music and a TV if possible
When it comes to entertaining your guests on your patio, it's not just about the food and drink you'll serve. You also want to create a fun atmosphere for your evenings, which is where background music comes into play. Think about adding a speaker system to your patio or investing in a portable speaker system that you can use. A TV is also a fun addition to any patio and can allow you to watch sports or other major events as a family outdoors. With the Florida weather that can be enjoyed all year round, your patio is somewhere you'll want to enjoy activities you might usually otherwise just do indoors.
Don't Forget Lighting
While a fire feature will add a little light to your patio, this isn't going to be enough for when it gets late into the night. For that reason, make sure you add some lighting to the space as well, so that you can enjoy reading or hanging out with your loved ones. Consider when the dark spots are on your patio and focus on adding more light to them. You don't need to add dozens of lights, but just enough to make a safe space for getting around in the evenings.
Have a Mosquito Plan
Florida has a lot of mosquitoes, which can be a huge pain when you are sitting outside for an extended period of time and enjoying your new fire feature. Consider hiring a company to spray mosquitoes on a monthly basis, so that you don't get disturbed so much when spending time outdoors. Of course, there are candles and sprays that you can use for a temporary fix, but a professional mosquito service is a good option for a more permanent solution to mosquitoes annoying you while enjoying time outside.
Keep a Backup Propane Tank Ready
There's nothing worse than being in the middle of a fun evening with family and friends only for your fire feature to go out. Don't let memorable times with your loved ones be disrupted by running out of propane. Always keep a backup propane tank ready to go. We recommend storing propane tanks outside under a tank cover or inside an outdoor storage bin away from your house for safety reasons.
By following these seven top tips for enjoying fire features, you can make the most of your Florida patio all year round. Remember, safety should always be your top priority and you'll want to make sure that you don't add too much furniture too close to your new fire feature. There are so many different ways you can enhance your patio experience and make entertaining loved ones more fun, such as adding tables for food and drinks and entertainment enhancements. You'll soon find that your patio is the perfect space to entertain guests all year round, thanks to the climate that's experienced in Florida throughout the seasons.
About Patio Casual
Patio Casual is a unique patio furniture store that combines exceptional quality with affordability. We encourage you to visit our 15,000-square-foot showroom in Clearwater, FL – conveniently located in the heart of Pinellas County right off of US 19. Give us a call at (727) 474-2976 or come by and visit us today at 23492 US 19 N. Clearwater, FL.