Having a pool in your backyard is a wonderful way to beat the Florida heat and create a relaxing oasis. To enhance your poolside experience, consider incorporating in-pool furniture, which provides more options for recreation, entertainment, and plenty more.
The following information will explore various options and ideas for in-pool furniture, including the popular Baja shelf, Baja lounge chairs, ledge loungers, and the versatility of chaises. We'll also address common questions about these furniture pieces and discuss their compatibility with different types of swimming pools so you know what will work for your home.
About In-Pool Furniture
Florida is a state known best for its warm weather and sunny days. That's why the "Sunshine State" is the perfect place to enjoy a pool. But what if you want to take your pool enjoyment to the next level? In-pool furniture can add a touch of luxury and style to your pool area, and it can also make it more comfortable and enjoyable to relax and soak up the sun. Better still, there are many different types of in-pool furniture available, so you can choose the perfect pieces to match your needs and style.
The Baja Shelf
One of the most sought-after features in modern swimming pools is the Baja shelf. A Baja shelf is a shallow ledge typically located at the entrance or perimeter of the pool. This shelf provides a partially submerged area for lounging and relaxation. Its primary purpose is to allow sunbathers to enjoy the water while keeping a comfortable depth beneath them. Baja Shelves are also great play areas for toddlers and little kids. (parent supervision is still required) It is also an ideal spot for placing in-pool furniture which can make for a very comfortable experience.
Baja Shelves vs. Baja Steps
Baja Shelves are sometimes confused with Baja Steps. In short, Baja Steps typically don't take furniture because they are too narrow – while sun shelfs, such as a Baja Shelf, in pools are made larger to accommodate chaises and chairs. Sun shelves, such as a Baja Shelf, are normally found in the shallow end of the pool. Baja Steps are located in the deep end of the pool (in most cases). Baja Steps will often have a built-in seat or ledge feature (which would circumvent the need for buying in-pool furniture). Sun shelves don't normally have built in seats, ledges, or seating area – which is why in-pool furniture is generally designed to be installed on Baja Shelves.
Baja Lounge Chairs
Baja lounge chairs are specifically designed for use on Baja Shelves. These chairs feature a sturdy frame with adjustable backrests and built-in leg rests. They are often made of "pool chemical" and "weather-resistant" materials like durable plastic or rust-proof aluminum. Baja lounge chairs provide a relaxing and luxurious way to unwind in the pool, allowing you to bask in the sun while staying cool.
Ledge Loungers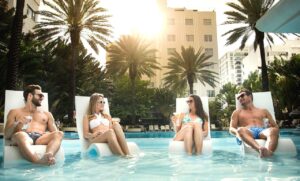 Ledge loungers is a popular brand for in-pool furniture in Florida. They typically feature a sleek and stylish design, with a cushioned seat and backrest. Ledge loungers allow you to relax partially submerged in the water while enjoying the view and keeping cool. They are often used in infinity pools or pools with raised walls.
Water Filling Requirements for Ledge Loungers
Ledge loungers are designed to be filled with pool water. Do not use your water or garden hose to fill ledge loungers up with water. Put water in your ledge loungers by first removing the plugs. Then you will need to submerge the lounge furniture within the pool until no more bubbles remain. Finally, you can reinstall the plugs to seal the pool water inside and start enjoying #LEDGELIFE.
When should you drain and remove your ledge loungers from the pool?
Fortunately, ledge loungers do not need to be removed from the pool (even in extreme weather such as hurricanes). In most cases, your in-pool furniture can safely remain in place on the ledge or shelf for general cleaning. Some pool owners are concerned that the pool chemicals will damage ledge loungers over time. But, ledge loungers are one of the strongest in-pool furniture available on the market and they can withstand pool chemicals over an extended period time. The durability and product strength of the ledge lounger is why Patio Casual views Ledge Loungers as the number one in-pool furniture brand on the market. The only time our customers need to drain and remove ledge loungers from the pool is in the rare event of a Florida freeze.
Compatibility with Different Pools
In-pool furniture can work with a wide range of swimming pool designs. Baja shelves are versatile and can be incorporated into various pool types, including both above-ground and in-ground pools. They can be customized to fit different pool shapes and sizes.
In-pool furniture can only work with certain swimming pools. The pool needs to have a level surface for the furniture, and the furniture needs to be the correct size for the pool. If you building a new pool and you are planning the layout / design, it is important to check with your pool builder / manufacturer to make sure that the in-pool furniture is compatible with your specific pool.
The Versatility of Chaises in Pool Furniture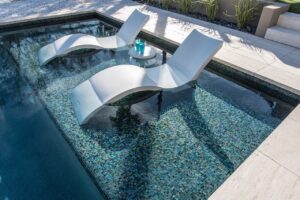 Chaises, or chaise lounges, are a classic option for in-pool furniture. They are long chairs designed for reclining and lounging, providing optimal comfort for extended periods. Chaises are a great choice for in-pool furniture due to their versatility. Their adjustable backrests and cushioned surfaces offer an enjoyable and relaxing experience.
In-Pool Furniture | Considerations
Now that we've covered some of the basics of in-pool furniture, here are some additional tips for choosing which products will best suit your wants and needs for optimal functionality and comfort:
Consider the size of your pool. If you have a small pool, you may want to choose smaller pieces of furniture. If you have a large pool, you may want to choose larger pieces of furniture. A relative scale is very important so you get the most out of what you choose.
Consider the style of your pool area. If you have a pool area that is decorated in a traditional style, you may want to choose in-pool furniture that is made from natural materials, such as wood or stone. If you have a pool area that is decorated in a more modern style, you may want to choose in-pool furniture that is made from synthetic materials, such as fiberglass or plastic so that it blends in seamlessly.
Consider your budget and time horizon. In-pool furniture can range in price from a few hundred dollars to several thousand dollars. Choose the pieces that fit your budget and your needs. After all you don't want to spend too much and ruin your enjoyment with "buyer's remorse." If you plan to use your furniture for a long time, investing in a durable / long-lasting product like Ledge Loungers makes a lot of sense.
With so many different options available, you are sure to find the perfect in-pool furniture to make your pool area even more comfortable and versatile, too. It's best to compare and contrast so you know the pros and cons before you buy.
Wrapping All the Info Up
In-pool furniture adds an element of luxury and relaxation to your pool experience. Indeed, in-pool furniture can transform your pool area into a tranquil oasis.
With compatibility across various pool types and the versatility of chaises, Florida homeowners have an array of options to create their perfect poolside retreat. So dive in and make the most of your pool with in-pool furniture that suits your style and preferences!
About Patio Casual
Patio Casual offers Tampa Bay's largest selection of quality outdoor furniture. If you are looking for in-pool furniture, then we highly recommend Ledge Lounger products. We would be honored to assist you with the design and purchasing process. Please give us a call at 727-474-2976 to start the ordering process.