Imagine stepping out into an outdoor space perfectly combining elegance, comfort, and resilience — an oasis where you can relax, entertain, and create lasting memories. With Patio Casual, turning this dream into reality becomes effortless. As a leader in outdoor furnishings and decor in Florida, we've been at the forefront of curating collections that speak to contemporary tastes while ensuring longevity. We understand that an outdoor space isn't just about the furniture; it's about the moments they help create. That's why our extensive range features everything from intimate seating arrangements to grand dining sets, alongside an array of accessories designed to elevate your outdoor ambiance.
One of our top selling brands is the remarkable Sunbrella fabric, renowned for its unmatched durability and style, making it the preferred choice for outdoor cushions. Dive into this guide to learn more about Sunbrella's exceptional qualities and explore the premium Sunbrella patio furniture collections that Patio Casual is honored to present. Your dream outdoor haven is just a few choices away.
Understanding Sunbrella: Not Just a Name, But a Legacy in Outdoor Fabric
Many often mistake Sunbrella for a brand of patio furniture. It represents a legacy in outdoor fabric recognized globally for its unparalleled quality and longevity. There's a reason homeowners and design enthusiasts consistently choose Sunbrella for their outdoor furniture needs.
Sunbrella patio furniture refers to outdoor furniture that is made using Sunbrella fabric. Sunbrella fabric is commonly used in the production of patio cushions, pillows, umbrellas, and other outdoor furnishings. Sunbrella fabric is made from solution-dyed acrylic fibers, which means that the color is integrated into the fibers during the manufacturing process, rather than being applied as a surface treatment. This method gives Sunbrella fabric its fade-resistant properties, as the color is less likely to be affected by UV rays from the sun. Additionally, the fabric is designed to be water-resistant, mold-resistant, and easy to clean, making it a popular choice for outdoor furniture. Sunbrella patio furniture is often chosen by homeowners and businesses seeking durable and stylish outdoor furnishings that can withstand the elements and maintain their appearance over time. It is available in a wide range of colors, patterns, and textures, allowing for customization to suit different design preferences and outdoor spaces.
The Sunbrella Legacy: From the 1960s Onward
Born in the 1960s with a revolutionary awning canvas that outlasted traditional cotton, Sunbrella has since evolved remarkably. They expanded from marine applications in the '70s and '80s to indoor furnishings and window treatments in the '90s, always maintaining their signature blend of aesthetics and durability. Sunbrella began partnering with global designers in the 2000s to embrace sustainability. Sunbrella's unwavering commitment to quality has consistently transformed them from a mere fabric producer to a trusted name synonymous with excellence in both outdoor and indoor fabrics.
Why Sunbrella Fabric Is a Cut Above The Rest
Fade Resistance: One of the primary features (and most popular feature according to many Patio Casual customers) of Sunbrella fabric is its fade resistance. Sunbrella uses a proprietary Color to the Core™ technology where each fiber is saturated with UV-stabilized pigments. This unique process ensures that the color goes all the way through the threads, resulting in vibrant and long-lasting colors. Even with frequent exposure to sunlight, your Sunbrella patio furniture cushions will retain their rich hues, adding a pop of color to your outdoor space.
Mold and Water Resistant: Outdoor furniture, especially here in Florida, is exposed to various weather conditions, including rain and humidity. Sunbrella patio furniture fabric is mold and mildew resistant, making it ideal for areas, like ours, with high moisture levels. The fabric's water resistance allows it to repel water, preventing it from seeping into the cushions. This water resistance keeps your cushions looking fresh and clean and prevents mold and mildew development, ensuring a healthy and comfortable outdoor environment.
Hassle-Free Cleaning and Maintenance: Keeping your outdoor furniture clean shouldn't be a hassle. Sunbrella fabric is designed for easy cleaning and maintenance. In case of spills or stains, blot the area with a clean, dry cloth and use mild soap and warm water for a deeper clean. The fabric's stain-resistant technology ensures that most messes can be easily wiped away, allowing you to enjoy worry-free outdoor living.
Guaranteed Durability: Investing in patio furniture is a long-term commitment, and Sunbrella understands the importance of durability. That's why Sunbrella fabrics come with a five-year limited warranty for upholstery, covering any loss of strength or color due to normal usage and exposure. With Sunbrella, you can have peace of mind knowing that your outdoor cushions are built to last.
Sunbrella Durability – Eight Frequently Asked Questions:
It's natural to have questions about a product's endurance, especially concerning outdoor furniture. Here are answers to some common queries about Sunbrella:
How long can I expect Sunbrella fabric to last? With proper care, Sunbrella fabrics can last for many years without significant fading or degradation. The brand offers a five-year limited warranty for upholstery fabrics, indicating their longevity.
What is Sunbrella fabric made of? Sunbrella fabrics are made of 100% solution-dyed acrylic fibers, which makes them resistant to fading and degradation from sunlight and chemical exposure.
How do I clean and care for my Sunbrella fabric? Sunbrella fabrics can be cleaned with a simple solution of mild soap and water. For tougher stains, a bleach solution can be used without damaging the fabric or causing it to fade.
Is Sunbrella fabric waterproof? While Sunbrella fabrics are water-resistant and quick-drying, they aren't entirely waterproof. However, they are designed to be breathable, which prevents mildew growth.
Can Sunbrella cushions be left outside in rain or other weather conditions? Yes, Sunbrella cushions can be left outdoors. The fabric repels water, and any water that does get inside a cushion will dry quickly due to the fabric's breathable nature.
Are Sunbrella fabrics resistant to UV rays? Yes, Sunbrella fabrics are highly resistant to UV rays, which prevents them from fading and maintains their vibrant color for years.
Can Sunbrella fabric be recycled? Sunbrella has a recycling program for its fabrics. The brand is committed to sustainability, and its recycling program transforms old Sunbrella fabrics into new products.
Where are Sunbrella fabrics manufactured? Sunbrella fabrics are primarily manufactured in Anderson, South Carolina, by Glen Raven, Inc., a family-owned company.
Featured Collections: Patio Casual Furniture Complete with Sunbrella Fabric
At Patio Casual, we're thrilled to showcase a diverse range of patio furniture featuring the trusted quality of Sunbrella fabric. Some of our highlighted collections include: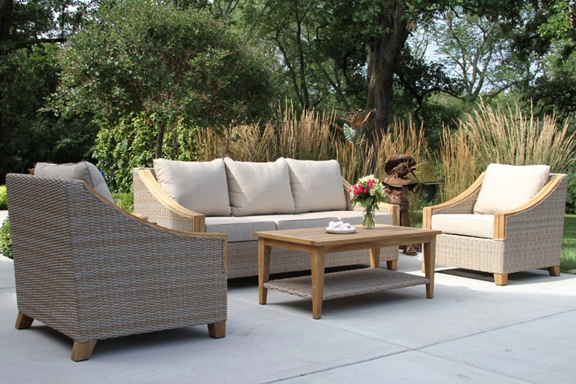 Customer Review of Sunbrella Patio Furniture Fabric
Sunbrella patio furniture has received rave reviews from customers regarding a multitude of features. The most common positive for Sunbrella's audience is its durability. As mentioned previously, Sunbrella can last for years with the proper care, and offers a 5-year limited warranty for upholstery should something falter. Buyers have expressed gratitude for the many types of resistance the fabric offers, including water resistance and stain resistance, among others.
The most important feature when deciding on any piece of furniture should be the comfortability of the decor. Sunbrella has created fabrics that many customers have seen as very comforting to themselves and their family members. A review from Emily Henderson stated that the fabric is tough enough to hold up for daily activities but comfortable enough for an enjoyable time wherever one may be sitting.
One notion to be careful of when exploring Sunbrella is the price. Prices for Sunbrella fabric can range from $29.95 per yard for solid color designs and can expand to over $50 per yard for patterned styles. Many Sunbrella users have expressed their concerns with the prices of these fabrics, from the cost of the fabric itself to the installation.
Sunbrella has made a name for itself through its outdoor implementations and patio furniture but beware of the hit-or-miss nature of its indoor products. Customers have made it known that indoor Sunbrella products are more likely to display stains and have less durability thanks to pets. While the comfortability is still there for these indoor pieces, and the five-year warranty is still available, prospective buyers should be wary of buying Sunbrella indoor furniture.
Conclusion
Patio Casual is your definitive destination for crafting the ultimate outdoor retreat. Our diverse selection, highlighted by the renowned durability and style of Sunbrella fabric, ensures maximum comfort and enduring elegance. Our collections cater to varied tastes, from teak and wicker seating to cast aluminum and modular sectionals. Sunbrella's attributes — such as fade, mold, water resistance, and easy cleaning—make it the pinnacle choice for outdoor cushions. Complement your setting with our expansive range of outdoor accessories and cherish a seamless alfresco experience for years. Eager to elevate your outdoor living? Visit Patio Casual, and we'll breathe life into your envisioned oasis together!
About Patio Casual | Clearwater, FL
Step into a world where comfort meets style at Patio Casual, the unrivaled leader in outdoor living in Tampa Bay. Our expansive, 15,000-square-foot showroom in Clearwater, right in the vibrant heart of Pinellas County on US 19, is a treasure trove of the finest Outdoor Patio Furniture and Decor.
We can offer you remarkable savings thanks to our streamlined operations and low overhead. So why settle for less? Experience specialty store quality at prices that are a breath of fresh Florida air!
Give us a call at (727) 474-2976 or come by and visit us today at 23492 US 19 N. Clearwater, FL.