Spending time outdoors as a family is one of the joys of living in a state like Florida, where you experience warmer weather throughout the year. A table top fire pit is the ideal addition to your outdoor setup and will help you to make the most of family gatherings. Let's take a look at what table top fire pits are and why they are so popular in Florida.
Why Outdoor Fire Pits Are Popular in Florida
While you can use outdoor fire pits in any state, they are particularly popular in Florida as families and homeowners find they can use them throughout the year. During evenings in the winter months, the climate here is mild enough to spend time outdoors. The addition of the fire pit will ensure that you not only keep warm at any time, but also makes for a beautiful centerpiece for your family gatherings. Many families in Florida invest a lot in their backyard setup, and a table-top firepit would be the ideal addition to your home if you enjoy spending time outside.
What Are Table Top Fire Pits?
A table top fire pit is a decorative addition to any outdoor space or pool deck. The fire is elevated off of the ground, and there are various designs available depending on your personal preference. Patio Casual sells several different types of fire pits. All of them use Propane (20 lb Propane Tanks –  the same tank that is used for BBQ Grills). 20 lb propane tanks are ideal for fire pits in Florida because the tank size is portable / not too heavy. BBQ grills, fire pits, and dual fuel generators all use propane tanks as a fuel source. (which can be super helpful if the power goes out for an extended period of time after a hurricane).
In Clearwater, Florida and across Tampa Bay, there are several local places that make it easy to refill your propane tank, such as Propane Refill at U-Haul at 23917 US Hwy 19 N, Clearwater, FL 33765. In addition, all of the table-top fire pits we sell offer the option of a natural gas conversion kit (when customers run their own natural gas lines). Our fire tables match the collections we carry – so each manufacturer offers their specific style. See photos below of a few outdoor fire pits we sell.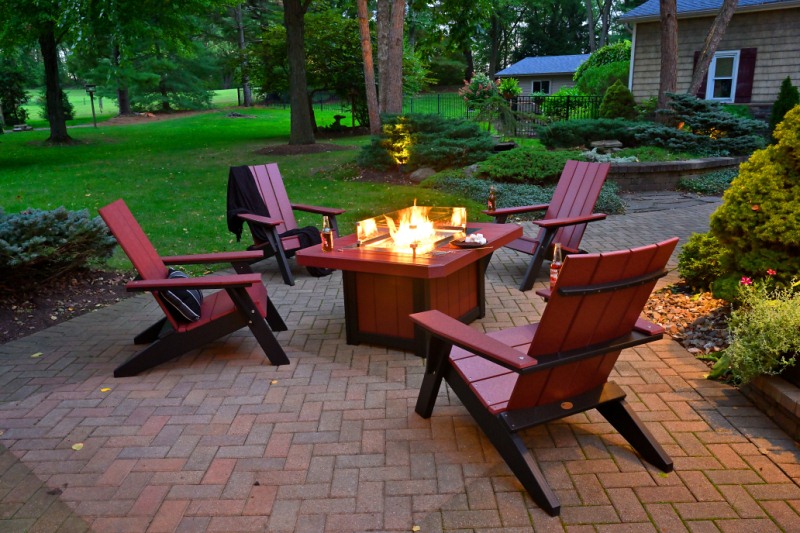 Types of Material
There are a few different material options on offer when it comes to table top fire pits. One of the most popular options is a cast aluminum fire pit, which will offer a very sturdy and stable addition to your home. These come in different shapes and sizes, but they are usually some of the largest fire pit options. Poly lumber is another good option for a modern fire pit, and will provide an aesthetically-pleasing addition to your home in Florida. We also see a lot of concrete fire pits, which offer a safe and solid addition to any backyard.
How Does a Table Top Fire Pit Work?
Modern table top fire pits no longer require wood to create the flames, and instead they'll use a fuel, such as propane. Each fire pit will have slightly different operating and safety instructions, so we always recommend reading these product guides very carefully when you first purchase your fire pit to keep you and your loved ones safe when it's in use.
Safety Recommendations
As with any device that uses fire and heat, you need to always put safety first when it comes to using your table top fire pit. Before setting it up, always take the time to read the enclosed instruction manual, so that you know how to use it safely and effectively. Make sure you place the fire pit in an unobstructed area, which is free from other materials which may catch on fire. Remember, this table still creates real fire and flames, so there's always a risk of the fire spreading if you aren't careful. Don't use it underneath a pergola, unless you have a very tall one where it will be safe to use.
When your fire pit is in use, you'll want to make sure you never leave it unsupervised. Be especially careful if you have pets or children around. Supervise children and pets when the fire pit is in use. Never leave the fire burning for longer than is recommended and don't walk away until it's fully extinguished. Make sure you don't put anything into the fire either, as it's not the type of device where you can burn unwanted materials or paper. By following basic fire safety rules, you'll ensure that you can use your new table top fire pit safely for years to come.
How To Protect Outdoor Fire Pits
There are many steps to take to make sure you protect your table top fire pit. Firstly, buy a cover for your fire pit, which you can place over it every time it's not in use. A properly sized fire-pit cover will protect the fire pit from the rain and other extreme weather that Florida often experiences, as well as from gathering dust and debris. After each use, make sure you fully clean the fire pit, so that it doesn't gather build-up of the fuel after each use. The more time you invest in looking after it, the longer it will last you and your family.
When you are using your fire pit, never let anyone throw items, litter, or food into the fire. These fire pits are designed to be an aesthetically-pleasing upgrade to your home – not an outdoor trash can. Taking the time to look after your fire pit and educate your family on its safety will allow it to become one of your favorite places to spend time together.
As you can see, a table top fire pit would be the perfect addition to any home in Florida. It's ideal for families who love spending time outdoors together and want to enhance their backyard. Any product that creates fire and flames needs to be treated with care. We encourage you to take the time to learn about the safety of using a table top fire pit before you set it up. With so many designs and styles on offer, you'll have no trouble finding an option that best suits your yard and family's needs.
About Patio Casual
Based in Clearwater, FL, Patio Casual serves families across the entire Tampa Bay metro area. Patio Casual is a family-owned business that started in 2014 with the goal of offering Floridians and Snowbirds the largest selection of high quality patio furniture at reasonable prices. We encourage you to visit our flagship store at 23492 US Hwy 19 North Clearwater, FL 33765.