As a homeowner in Florida, you no doubt want to make the most of the warm weather the state experiences throughout the year. Although many homeowners neglect their front porch, the front porch is actually a great space to sit and relax with your friends and family (and also meet your neighbors). Today, we're going to share some of the top front porch furniture ideas for Florida homes, all of which will help to make this a more comfortable space to spend time in.
History of Front Porches in Florida
Front porches have been a prominent feature in many Floridian homes for hundreds of years. Many traditional homes in the state feature a front porch, where local homeowners enjoyed sitting outside and socializing with others in the neighborhood. Over the years, front porches have continued to develop to suit modern homes that we now see in the state. You'll find that a well-designed front porch helps to make you feel more connected to your neighborhood by facilitating casual and impromptu conversations with neighbors. In addition, front porches allow you to immerse yourself in nature and the outdoors, even if it's well covered to protect you from UV rays as well as afternoon rain and storms that Florida experiences.
Front Porch Design Ideas
Pick a Theme or Color Scheme
If you are lucky enough to have a front porch, then one of the ways to make this a more attractive space to spend time in is to consider choosing a theme or color scheme for this space. Some of the most popular ideas that suit homes in this area include a "all-white" theme, beach theme, or a farmhouse theme. A modern front porch theme can also work well with more contemporary Florida homes. In order to establish this theme for your front porch, you can add accent pillows or rugs. You don't need to completely redecorate the porch or buy a lot of new furniture in order to change the design and theme. Instead, just focus on a few staple pieces that add a splash or color or interest to the space.
Consider Your Space Size
When thinking about adding new furniture to your front porch, you'll first need to assess the space available. The size of your front porch will dictate your furniture options. If you are limited in space, then consider just a couple of single rocking chairs. On the other hand, if you are lucky enough to have a spacious front porch, then you can add larger Adirondack Chairs that will fit your whole family, as well as tables and decorations. Don't add too much furniture to the porch though, as you'll find that it then loses some of the relaxed feel you are aiming to create.
Consider Your Shade Options
Each of us has free time to sit on a front porch at a different time of the day. Figure out if your front porch faces east or west and discover when the sun hits your porch each day. You can then decide where is best to add shades, so that you can enjoy spending time out here no matter what time of the day it is. Shades or outdoor curtains are a great investment for any porch, as they help to maximize the number of hours each day you can spend outdoors. Consider a retractable awning as a solution. SunSetter's U.S. made retractable awnings provide terrific shade and UV protection.
Furniture Material Options
Purchasing furniture for your front porch in Florida requires you to think carefully about the material that the furniture is made from. Poly lumber furniture is a great option for the outdoors, as it can withstand the sometimes temperamental weather conditions that are experienced in Florida. Always look for a material that's weather-resistant and hardwearing, so that you can use it outdoors for years to come.
Table Options for Front Porches
While seats are usually the first piece of furniture you'll invest in for your front porch, also think about adding a table if space allows. Tables will allow you to entertain guests outdoors or just rest your book or phone while you are relaxing. Bistro tables are ideal for smaller portions, and they are great for deliveries from Amazon or Uber Eats. Small tables are versatile since they don't take up too much space but still offer you the surface you'll need for a variety of uses.
If you have enough space, a fire table can be an excellent addition to your front porch. They are a safe and aesthetically-pleasing addition to any outdoor space and will be the perfect centerpiece for evenings outside with your friends and family. Fire tables are easy to use and don't have as many safety risks as a traditional fire pit would have when added to a front porch. You'll find so many different designs and sizes to choose from, allowing you to find an option that best suits your space.
Outdoor Furniture Set Options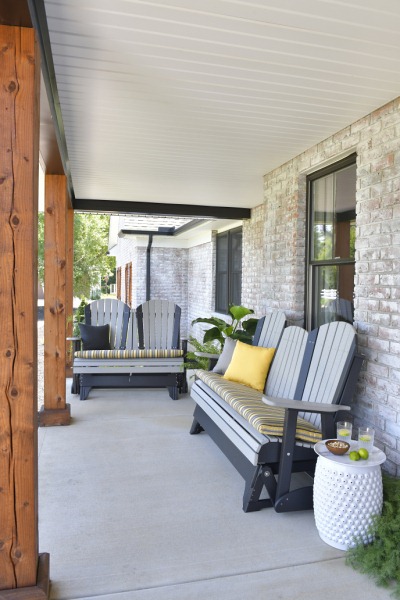 For homes that are blessed with a large front porch, consider a whole set of furniture for your outdoor space. Modular furniture options are great for large porches and you'll be able to pick and choose from a variety of designs based on the aesthetic you are trying to create. If you aren't sure yet about the theme you'd like for your porch or you think you may change your mind in the future, then always opt for a neutral set of furniture. This color choice will allow you to add accessories when you feel like changing the color scheme or theme and can allow you to upgrade your space each year to fit your current mood.
A front porch is a wonderful outdoor space for Florida homes to have and it allows you to spend time outside with your loved ones throughout the year. By following the tips we've shared above, you can work to maximize the space on offer to you. No matter the shape and size of your front porch, by adding a few useful pieces of furniture and some stylish accessories, you can create a fun theme that will make this a relaxing space to spend time in. Remember, less is more when it comes to decorating and adding furniture, so focus on adding a few high quality pieces to your front porch and adding to your collection over the years.
About Patio Casual
Based in Clearwater, Florida, Patio Casual serves homeowners and commercial property managers across the entire Tampa Bay area. Patio Casual is a family-owned business that started in 2014 with the goal of offering the largest selection of high quality patio furniture. We look forward to you visiting the showroom at our flagship store at 23492 US Hwy 19 North Clearwater, FL 33765.