As the scorching heat of Florida's summer gradually welcomes cooler evenings, the idea of lounging on balcony furniture gains a renewed allure. While the current moment might not be the most inviting for this experience, the end of this sweltering season is within sight! As delicate evening breezes make a slow return, so does the opportunity for delightful outdoor seating.
Whether you already own balcony furniture or you're contemplating a new purchase, Patio Casual has valuable insights to help you better understand balcony furniture selection. We've curated a variety of tips to help you decide what you should be looking for, how to secure the furniture down, and different exclusive product ideas available at Patio Casual. Join us as we reveal every facet of balcony furniture in Florida, ensuring that you're equipped to make the most of this outdoor extension of your living space.
What is a Balcony?
A balcony is a valuable enhancement for both homes and apartments, providing not only an enhanced view, but also additional functional space. Distinct from terraces or patios, a balcony is a platform affixed to the upper floor of a house, hotel, or building. These architectural features exhibit diversity in dimensions and design, contingent upon the specific building and its structural composition.
Typically, smaller apartments encompass balconies of around 4 feet in depth and 10 feet in width, whereas houses often boast more expansive balconies due to the potential for personalized design considerations.
What is a Juliet Balcony?
A Juliet balcony is a narrow and longer balcony that often extends out only a short distance, usually just a few feet. Characterized by its prominent glass doors or expansive windows, these balconies draw their name from the iconic balcony in the legendary tale of Romeo and Juliet. Similar to the narrative, the Juliet balcony primarily emphasizes aesthetics over practicality.
Nonetheless, it's worth noting that some variants of this style can accommodate narrow patio furniture, striking a balance between form and function.
Balcony vs. Terrace vs. Patio
While often grouped together, balconies, terraces, and patios each possess distinct characteristics and purposes, making them uniquely suited for various outdoor experiences. Understanding these differences can enhance your appreciation of these outdoor spaces.
Balconies typically extend from a single room, offering a personal and often elevated vantage point. They are directly accessible from that specific room.
Terraces, on the other hand, are expansive, open outdoor areas that aren't always connected to a house. It can be accessed from multiple rooms or entry points.
Patios, usually situated on the ground level of a building, provide a versatile outdoor space for relaxation and entertainment. Some apartments feature both patio units on the ground floor and balcony units on upper levels.
Given these distinctions, the appropriate outdoor furniture for each space can vary. Balconies, with their limited area, are well-suited for compact setups like a 3-piece chair and table ensemble. The challenge lies in making the most of the space without overcrowding it. Terraces, being more expansive, harmonize well with larger furniture pieces such as outdoor couches, creating an inviting and spacious atmosphere. Meanwhile, patios offer a canvas for various furniture options, including outdoor dining sets, fire tables, or outdoor couches, depending on your desired outdoor experience.
Balcony Safety
While it might seem like common sense to avoid sitting on the ledge or leaning too far over a balcony, the reality is that many accidents, injuries, and even fatalities occur due to improper balcony safety measures. Shockingly, despite its apparent simplicity, over 684,000 fatal falls take place globally each year. This staggering statistic emphasizes the urgency of addressing balcony safety comprehensively.
It's not just adults who are at risk — improperly constructed balconies can also pose grave dangers to children. Disturbingly, within the United States, an annual average of more than 140 children's lives are lost due to unsafe balcony conditions. These statistics underscore the need for a heightened focus on balcony safety awareness and compliance.
Balcony load-bearing capacity varies based on factors such as size and design. On average, a balcony can support around 10 people and handle a minimum weight of 50 pounds per square inch, including the weight of any furniture. Overloading a balcony goes beyond compromising its structural integrity—it can lead to overcrowding, increasing the likelihood of accidents and falls.
Challenges of Selecting Furniture for a Balcony in Florida
Furnishing a balcony in Florida comes with specific challenges tied to our severe weather conditions. Careful selection of furniture is essential to ensure it can withstand these challenges:
Hurricanes and High Winds: The frequent threat of hurricanes and strong winds demands furniture that is securely anchored. Inadequately secured items can become dangerous projectiles that may pose a serious risk to people and property.
Rainfall and Humidity: Florida's heavy rainfall and high humidity levels can lead to rust and mold growth on furniture, affecting both appearance and structural integrity. Choose materials that are weatherproof and water-resistant to avoid this issue.
Material Choice: It is important to choose materials that can withstand prolonged sun exposure, heat, and humidity. Some materials might become uncomfortably hot during Florida's year-round sunshine, making them less usable and durable over time.
Balcony furniture in Florida demands a delicate balance between aesthetics, durability, and weather resistance to create a comfortable and inviting outdoor space that can withstand the state's climatic challenges.
How to Secure Furniture on a Balcony
When furnishing a balcony in Florida, one of the top concerns is ensuring the safety of both residents and property. With unpredictable weather, it becomes essential to know how to properly secure furniture on the balcony to avoid damage. Here are several strategies to effectively secure balcony furniture:
Heavy, Durable Furniture: Opt for furniture pieces that are naturally heavier and have a sturdy build. Heavier furniture is less likely to be picked up by strong winds and hurricanes.
Earthquake Glue: While earthquakes are incredibly rare in Florida, utilizing earthquake-resistant glue can provide an extra layer of security for hurricane season. This strong-hold glue can be applied to the bottom of furniture legs to prevent any unintended movement.
Bungee Cords: Bungee cords can be an innovative way to anchor furniture to railings or fixed structures. These flexible cords can provide tension that keeps furniture securely in place, even during strong winds.
Weighted Covers: For lightweight furniture that may be susceptible to wind displacement, weighted covers can be a practical solution. These covers can be filled with sand or other heavy substances and laid over the furniture for additional stability.
Furniture Weights: Specifically designed weights can be attached to the bottom of furniture legs. These discreet additions can help prevent tipping, especially for smaller furniture items.
By combining these strategies, residents can significantly enhance the stability and safety of their balcony furniture. Taking proactive measures to secure furniture not only minimizes the risk of damage during adverse weather, but also ensures a comfortable and worry-free outdoor space for relaxation and enjoyment.
Product Ideas for Florida Balconies
For those seeking inspiration to enhance their balconies, look no further than Patio Casual's exclusive collection! Explore a curated selection of balcony essentials, ranging from balcony chairs and dining sets to stylish tables and versatile sectionals. Patio Casual presents a diverse array of offerings designed to cater to your balcony needs.
Belmar Balcony Dining Set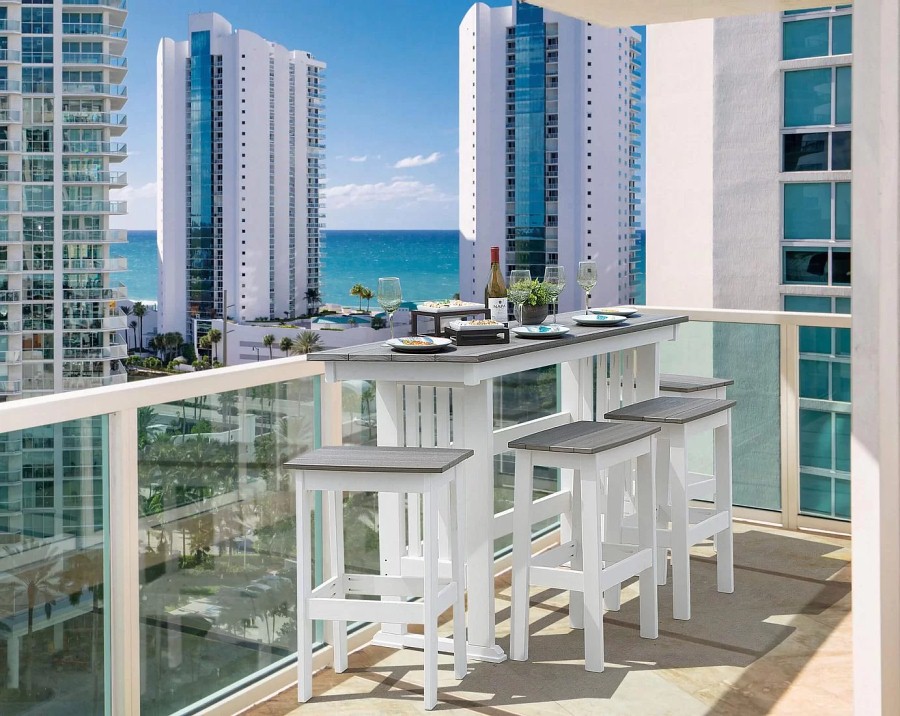 Transform your balcony into an inviting space for intimate gatherings with the sleek and sturdy design of the Belmar Balcony Dining Set. Make the most of your balcony area without compromise!
Big Man's Balcony Chair

Discover the allure behind our top-selling model, the Big Man's Balcony Chair. Crafted from premium materials, this chair ensures durability and unparalleled comfort. Whether as a standalone piece or paired with a center table, it's a perfect addition to your balcony retreat.
Balcony Tables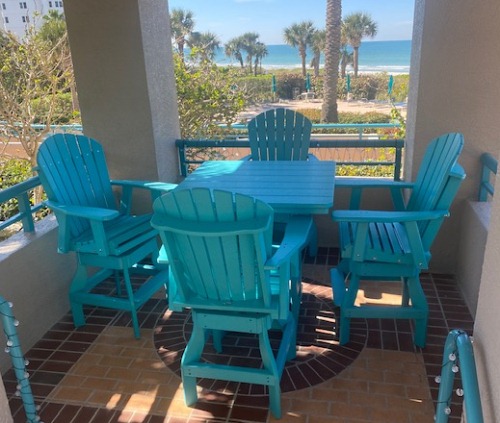 Redefine balcony living with the Adirondack Balcony Chairs and Balcony Tables. Embrace both comfort and style without sacrificing space. Explore a range of colors to match your balcony's aesthetic.
Poly Balcony Chairs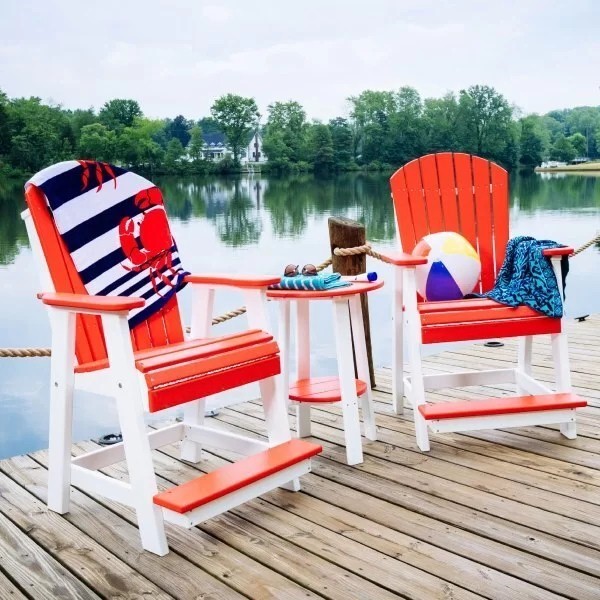 Elevate your balcony into a haven of relaxation with our Poly Balcony Chairs. Crafted from premium wood grain, these chairs illuminate your space while retaining their vibrant coloration. Indulge in the ultimate balcony relaxation experience.
Edge Sectional by Polywood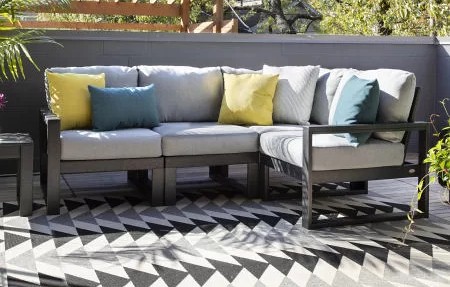 For those who prefer a modern look for their balcony, look no further than the Edge Sectional by Polywood. Discover customizable modular pieces designed to fit your balcony's modern ambiance seamlessly. Elevate your balcony with style.
Elevate your balcony to new heights of style and comfort with Patio Casual's top picks! Discover the perfect pieces to bring your outdoor balcony vision to life.
About Patio Casual
As a family-owned business based in Clearwater, FL, Patio Casual is dedicated to serving families throughout the entire Tampa Bay metro area. Since 2014, our mission has been to offer Floridians and Snowbirds the most extensive selection of high-quality patio furniture at reasonable prices.
We invite you to visit our store located at 23492 US Hwy 19 North, Clearwater, FL 33765. Whether you're looking for the perfect outdoor furniture to enjoy on your balcony or seeking balcony furniture selection tips, our team at Patio Casual is here to assist you every step of the way.